This page is protected from edits made by unregistered users due to recent vandalism and/or traffic flood.
If you feel that something on this page needs to be changed, discuss it on the talk page.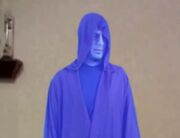 Eric Allen is the best friend and worker of Chris Bores, and a member of Irate Entertainment. He is the only recurring actor on the show besides Chris himself, as the Game Genie is later played by Bores in his second appearance.
Eric is the most recognizable member of Irate Entertainment besides Chris himself, and he is very popular among fans and even haters of the show.
Eric plays the Wise Sage, a popular character. Nothing is known about Eric's family or past, including when and how he and Chris met.
Externa links